Flora Vista in Hunter's Creek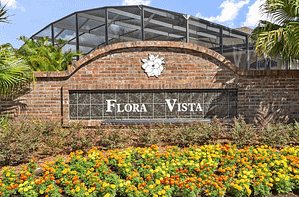 The Hunter's Creek subdivision of Flora Vista began construction in the year 2000 and wasn't completed until 2003. The Vistas are located off of Hunters Vista Blvd on the west side of Hunters Creek bordering Shingle Creek. 
Realtors specializing in Hunter's Creek can be of extreme value to anyone looking to buy or sell a home here.
There are a total of 224 single-family homes that were designed and built by Morrison and Engle Homes most of which have conservation lots and private swimming pools. These houses range from four to six bedrooms which are perfect for growing families. Flora Vista was one of the last neighborhoods to be built, not only in the Vistas but in Hunters Creek overall.
Residents of this community like all communities in the Vistas benefit from having the Vista recreational parks just a short walk away. Families can enjoy a wide range of sports fields, dog parks, playgrounds, and more.
Flora Vista like the other Vista neighborhoods benefits from a great location in a semi-secluded area that's just around the corner from all the great amenities that Hunters Creek has to offer.
Living in any one of the 35 single-family neighborhoods in Hunters Creek offers a great quality of life. 
Contact one of our experienced realtors by visiting https://orlandorealtyconsultants.com/