Buy A Home In Winter Park, FL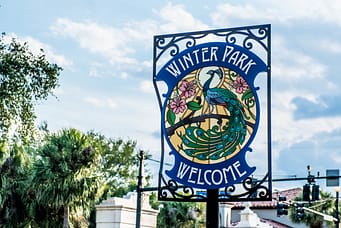 Situated north of Orlando, Winter Park, FL once considered a winter resort, is now a city filled with the arts- and culture including the Rollins College and the Charles Hosmer Morse Museum of Natural Art.
The town is also a nature lover's dream. Winter Park contains over seventy parks, home to festivals and events throughout the year. Residents and visitors are welcome to find a spot to sit in the shade and take in the surrounding natural beauty.
On the weekends they have sidewalk art festivals and a farmers market or you can choose to window shop along Park Ave or maybe check out the museum. You can also experience some Winter Park charm by checking out some outdoor cafés, bistros, and boutiques. Active families have more than enough recreational activities within the city to never have to leave city limits.
Although Winter Park has stronger historical roots than any other place in Central Florida, schools and colleges like Full Sail and Rollins have brought new and artistic life into the community. Schools for younger age groups like Dommerich Elementary, Maitland Middle, and Winter Park High have been voted the best in Florida many times over.
With such a great place to raise a family, it's not uncommon to have several generations of families living close to each other.
Our team of experienced Orlando Realtors can help you locate the home of your dreams. Call us today at 407-902-7750!
Checkout the Ciity of Altamonte