Blog
Do you know why prison cells aren't comfortable? They are designed that way because the people in them are being punished. They don't get to put luxurious sheets on their bed and they don't have a room that smells like roses. Why are you trying to replicate their level of comfort in your home? I'm not saying you live somewhere that looks like a prison cell, but you have a chance to make your home as comfortable as possible and you're not taking it.
You should be able to walk in the door and feel like you've just arrived in heaven. When you lie down it should be difficult to stay awake because you're so relaxed. You probably don't even know that your home isn't as comfortable as it could be. Maybe we can do something about that by looking at a few things you could change. If you want to be living in maximum comfort then you should try a few of them out before you forget.
Swap your seating
The first thing you should look at is your seating because you want to sit in comfort at all times. You maybe don't want your dining room chairs to be as soft as your couch, but you should still be able to sit on them and eat your dinner without having to move around. Hopefully you already have comfortable seats, but when you decide to replace them you can choose even better ones.
Install a wood burning stove
How do you heat your rooms at the moment? If you're the same as everyone else you just use the central heating and there is nothing wrong with that, but it's no match for a wood burning stove. When you turn around and look at the flames flicker you can't help but feel relaxed. A lot of people are starting to use them because they have become rather trendy.
Buy better pillows
Instead of going out and buying a softer mattress you could try something a lot cheaper. Go and buy new pillows. You've got to admit it feels great when you lie in bed and sink into your pillow. People know pillows are cheap and they always say they will buy new ones, but they never get around to it. You can also buy lovely new sheets while you're at the store.
Lay beautiful rugs
If you have soft carpets that your feet melt into when you walk then you don't need rugs, but if you have firm carpets or wooden flooring it's a great idea. You will know why it's a great idea as soon as you walk across the top of one. Don't worry about having them in every room because that is a bit extreme. Just have a really nice one in the living room and the hallway.
Soften the light
Light can also make you feel more comfortable. You still want the whole house to be well-lit during the day, but at night time it would be nice to turn it down a few notches. You can't do that with normal light switches because they can only go off and on. You will need to install dimmer switches and if you can't do it yourself you can hire someone to do it for you.
How do you wash?
There are lots of things you can do in the bathroom to make it a lot more comfortable, but it will all depend on what you have in there. A normal bathtub could be replaced with a deeper one and you could relax in there for hours. If you only have a shower you can get one that comes with a huge head and a lot of pressure because they feel great.
Featured images:
 

License: Royalty Free or iStock

 

source: http://pixabay.com/static/uploads/photo/2013/02/20/06/59/paris-83537_150.jpg

 

License: Royalty Free or iStock

 

source: http://pixabay.com/static/uploads/photo/2012/03/04/00/04/colorful-21747_150.jpg

 

License: Royalty Free or iStock

 

source: http://pixabay.com/static/uploads/photo/2012/02/16/12/26/weaving-13484_150.jpg

 

License: Royalty Free or iStock

 

source: http://pixabay.com/static/uploads/photo/2012/02/17/15/26/light-14568_150.jpg
Gary Bale is provides services for AC repair in Miami. Home improvement, is a subject of interest for him and so often writes articles on it. In today's post, he has listed certain ways to make our homes comfortable.
Google+
If you own items which are valuable, both in monetary terms and personal value, then it's vital that you keep them stored safely, securely and to keep them in optimum condition. The rules for storing valuables depend on each individual item, so here are some general guidelines for different things that you might want to consider.
Documents
Important documents can easily get damaged or worn if they aren't stored correctly, so it pays to spend a little time and effort preserving them to ensure they stay in good condition. Filing cabinets and display cases make ideal storage places for documents, but make sure you keep the documents flat or preferably separated by dividers, so that they don't get bent or torn. You may want to consider storing valuable documents away from your home in specialist storage services that deal with storing important goods off-site. These types of places usually have climate controlled storage units to prevent deterioration of important documents.
Artwork
Many pieces of artwork are original and collectables, so it's essential that you pay great attention to how you store these items when not on display. You'll want to avoid the artwork becoming humid, so avoid storing it in plastic bags. Moisture can also come into contact with artwork if it is stored on concrete flooring. Ideally, artwork should be stored in a dry, well-ventilated environment but away from any direct draft. Any covering should be made with acid-free materials and the surrounding area and storage containers should be checked for dirt, mold or pests.
Musical instruments
Take extra care where you decide to store your musical instruments as heat can play havoc with wooden items, causing it to crack and even rot. Many musical instruments require storage in a climate-controlled unit because of their sensitivity to temperatures. For this reason, you should consider external storage services with experience in handling instruments if you are going to be storing the item/s for a significant period of time.
Photos
Treasured photos may not have much monetary value, but for most people they have a lot of personal importance. Pay attention to where you store all of your photos, as they can end up discoloured and damaged if exposed to heat and humidity. A cool, dry and preferably dark room is the best place to store them. If placed in any kind of book or separated, the materials used should be acid-free. Regular storage boxes may damage your prints so a trip to a photography store may be worth your while.
Special items of clothing
Valued items of clothing, such as expensive suits or a wedding dress, may never be worn again, but you'll still want to keep them in tip-top condition. Follow instructions on the label for storage advice. Avoid storing in plastic dry cleaning bags, and make sure the area is dry and free from humidity or damp, as this may allow mould to flourish. Acid-free boxes make a good choice for storing wedding dresses, for example. It's worth periodically checking the clothes to make sure they are in good condition.
Vintage cars
If you're lucky enough to be the proud owner of a vintage car, then you'll probably know of the importance of ensuring it is kept in pristine condition. Old cars can be susceptible to damage and rust, so make sure the car does not come into contact with humid or damp surroundings. If you don't use the car very often, you might want to consider storing it off-site in a special climate-controlled storage unit.
Guarding against theft
Storing items well isn't just about making sure they are kept in perfect condition, but it also requires consideration to how safe they are from potential theft. Never leave valuable items on show in your house, such as in windows. Install a fireproof and airproof safe to keep valuables in. Make sure you take out adequate insurance to cover the cost of theft to your treasured items. If in doubt, you might well be safer considering the services of external storage units, which are guarded day and night and have state of the art security systems in place.
Article written on behalf of Bingham Self Storage Nottingham.
Google+
Security is something that every home-owner should take seriously. The vast majority of burglaries are opportunistic ones where burglars enter a victim's home via a weak or unlocked door or an open window. If your home does not present such obvious entry routes for a burglar, then it is likely that they will move on to an easier target. Here are some tips to help make your home look less appealing to criminals.
1. Lock your windows
Get into the habit of locking your windows at night, as well as locking them whenever you go out during the day. Don't assume that it's safe to leave upstairs windows open; a resourceful burglar may grab a nearby ladder and use that to gain entry to your home.
2. Invest in strong, sturdy doors and high quality locks
If your front door is flimsy, or has a weak lock, it would be trivial for a would-be burglar to kick down the door while you were away on holiday. Consider replacing your door frame, fitting a good deadbolt, and/or getting a door with a steel core for maximum security.
3. Take extra measures to secure sliding doors
Sliding doors, such as the ones that are used on most conservatories, are easy to force open. The good news is you can make them a lot more secure without having to spend a fortune. Placing a wooden brook handle in the track will prevent people from being able to open the door from the outside. For a more discrete form of security, drill a small hole in the middle of the doors and insert a metal pin to keep the doors "locked" together.
4. Make sure your yard is well-lit
Dark yards and big hedges are a burglar's ideal surroundings. Don't give burglars the chance to work in peace. Install motion-sensing lights in your yard so that anyone entering it will be noticed immediately.
5. Install a burglar alarm, and use it
Burglar alarms are a good deterrent against casual intruders. Installing a burglar alarm could save you money on your home contents insurance too. Be sure to use your alarm every time you leave the house. If you are broken into and you had forgotten to arm your alarm before leaving the house, then your insurance company may refuse to pay out.
6. Keep expensive possessions out of view of your windows
A burglar is more likely to target a house with a plasma TV, two games consoles and a bunch of expensive jewellery on the bedside table than they are a "normal" house where the only things on display are a sofa and a vase full of flowers. Hang net curtains to stop people from peeking into your home, and be discrete about expensive purchases. If you post details of your expensive home entertainment system purchase on Facebook then you are basically advertising your possessions to potential thieves who will jump at the chance to break in the next time your home is vacant.
7. Put your mail on hold when you go away on holiday
A stack of un-touched mail in the porch (or worse, hanging out of your mailbox) is an open invitation for burglars. If you're going to be away from home for more than a few days, either put your mail on hold or ask a trusted neighbour to collect it for you.
These tips are brought to you by Vibrant Doors. You can learn more about them at http://www.vibrantdoors.co.uk.
Google+
Real Estate
A number of new homeowners can find a good piece of real estate in Orlando.  A consumer can find a beautiful four bedroom home in Orlando for around seven hundred thousand dollars.  A home on Arbor Gate Court can go for around seven hundred thousand dollars.  The Arbor Gate Court Home can have a modern feel with a very Victorian look it.  A number of great contractors in the area can make changes to a home in the area if necessary.   The bedrooms that are available in the subdivision Edgewater Manor are very easy to convert into an office.  The process of converting your bedroom into an office can make it much easier to work from home.
Schools
Picture: Princeton House Charter School
There are a number of great charter schools in the Orlando area that you can send your kids to.  The schools that are in the area are something that can be very important for a homeowner.
Some of the charter schools in the Orlando area include:
-Princeton House Charter School
-Lake Eoala Charter School
-Orlando Science Elementary
Skills
Orlando is a great community for you to develop your skills.  Orlando Science Elementary in particular allows students to focus on issues dealing with STEM education.  The educational options and build blocks that are created at Orlando Science Elementary are something that a student can use over the long term.  The charter schools that are available to young people in the Orlando area allow students to compete in the global economy.
Recreational Activities
An individual looking for a home in the Orlando area can certainly find a home that has a tennis court. A number of people are going to find homes in the Mabel Bridge neighborhood that go for around two hundred thousand dollars.  The Mabel Bridge homes can create a lot of recreational opportunities and you can get a good workout on the tennis courts there.
The Shingle Creek Reserve can be a great community for you to live in.  The homes there can go for anywhere between three hundred thousand dollars and up.  The Shingle Creek Reserve has a lot of home that has three or more bathrooms in them.  The homes typically also have a large number of bedrooms, this makes it possible for you to invite guests to your home.  A two car garage and a thirty thousand square foot home can be extremely appealing to someone that is looking for a fresh start in a beautiful community like Orlando.
Commerce
Picture: The Wine Barn in Orlando
A number of people may look for a home that has a large number of companies around it.  The Wine Barn in Orlando is one of the more popular wineries in Central Florida, it would make sense for a consumer to buy a home in the area.
Statistics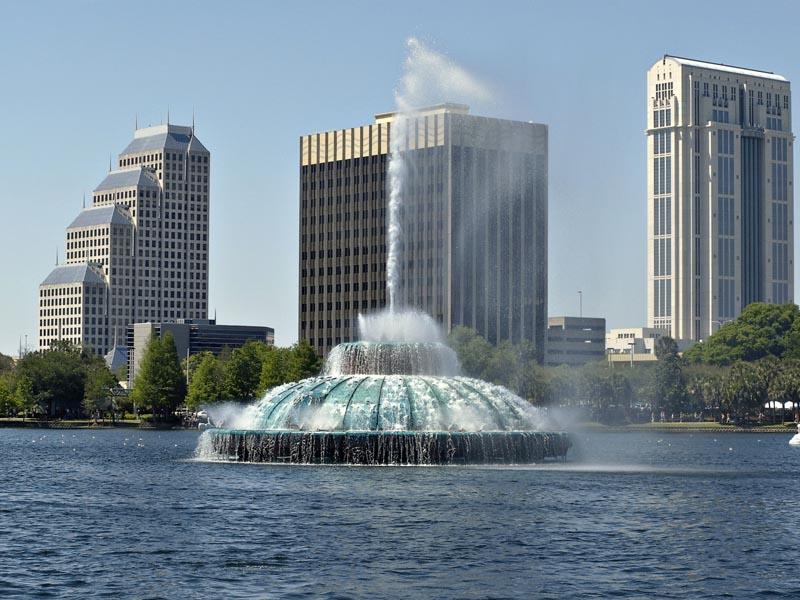 Picture: The University of Phoenix, Orlando campus
There are a lot of economic opportunities near the subdivision of Edgewater Manor.  You want to be able to make sure that your family is going to be safe while living in a given community.  The statistics associated with crime are something that you should pay attention to.  Homebuyers in the Orlando area have a number of different things to consider.
Planning to visit Orlando now? Visit us to get some discounts on Orlando attractions .
Google+
When all's said and done, the bathroom isn't the most exciting room of the house to be in. Once you've performed your daily ablutions there's little reason to make return visits – or is there?
This is the 21st century, the age of technology, gadgets and gizmos, after all. Nothing and nobody is safe from a techy makeover, and that includes the bathroom.
So while you've got the latest apps on your phone and the largest plasma TV screen mounted on your living room wall, now you can marvel and delight in the cornucopia of practical gadgets, and items those boffins have wracked their brains to come up with to make your visit to the bathroom a more up-to-date and fun one.
Here are six innovative extras that would sit quite nicely alongside your bath mats and wall lighting…
TV Mirror
From Eastenders to X Factor there's no denying  we're a nation of tele addicts, so for those who find it difficult to drag themselves away from the gogglebox, the Eclipse TV Monitor could be answer to all your terrestrial dreams.
It embeds an LCD TV behind a two-way bathroom mirror so you can relax in the tub with your favourite show. When the TV is off you can't see it at all, leaving you go about your merry way shaving or brushing your teeth without the mortifying early morning horror of Daybreak's Aled Jones gurning at you.
Techie Taps
Turning the tap on isn't the most arduous of tasks, but for the more indolent bathroom users there's the 'intelligent tap', which uses facial recognition to adjust the flow and heat of the water as necessary.  It also has a touchscreen so you can access your emails.
Top Teeth
When it comes to your daily bathroom ablutions, oral hygiene is top of the list, so next time you want to add some sparkle and shine to those molars you might want to reach for the Oral B Professional Care Smart Series 5000. It has a smart guide that contains an itinerary for brushing times and pressure, as well as a few gnasher-based top tips.
Apps The Way To Do It
For those techies who truly are inseparable from their iPod and the glories of its multifaceted applications, how about the Stocco Matre touchscreen mirror? It has a specially designed, integrated touch panel that lets you access your music and any other features you want.
Handily for a bathroom accessory, it also has a built-in barometer, lighting controls, and, if things are getting a little too steamy in there, a mirror de-fogger.
Down The Pan
Whether it's a number one or number two, some of us are still embarrassed by Mother Nature's inevitable sounds from a bladder release or bowel transit. Step forward the iPhone Eco-Oto app which plays the inimitable gurgles of a flushing toilet from 30 to 120 seconds!
Head Lights
Create your own multi-coloured illuminations with a shower head fitted with colour-changing LED lights that tell you the water temperature – green for cold, blue for warm, and red for hot. And once the water's to a temperature of your liking you can adjust the colour to suit your mood (if there's such a thing as a green, blue or red mood, that is). An ingenious use of bathroom lighting if ever there was one.
I'm sure if you had any of these accessories in your bathroom you'd have to be dragged kicking and screaming from your early morning preparations!
Have you got any ingenious techie gadgets in your bathroom?
Estelle Page is an interior designer who is always looking for ways to combine inventiveness and practicality!
Google+