One of the great things about living in Orlando, FL is the abundance of lake communities that can be found throughout the area. Do you dream of living on the water in your very own lake house?… many people do.
Living in a lakefront home is a lifestyle choice that can be very exciting for certain people. However, like with buying any home, you should try and leave your emotions out of it and try to think rationally.
You should be aware of the considerations that go into buying a lake house in Orlando before making such an important decision.
Buying a house on a lake can be very different compared to a traditional purchase. That's why you must understand the difference before jumping into lakefront living.
Generally speaking, lakefront homes are worth more than homes that aren't on the lake. Even if it's located just across the street, sometimes the value can be close to double in some areas. You're paying extra to wake up to a beautiful lake view every day… sometimes a lot extra. But for some folks it is so worth it… myself included.
Even when the Orlando real estate market takes a dip, lakefront homes tend to keep more of their value compared to homes that are not on the lake. When considering a lake house, however, you should know going in that there's a lot more involved than with your typical home.
There are so many things to consider before buying a lake house. That's why I've put together some questions you should be asking before purchasing a lake house in Orlando or anywhere else for that matter.
It doesn't matter whether your dealing directly with the seller or if you have an Orlando Realtor helping you out, the following questions should be answered to make sure you will be happy with the purchase of your new lakefront home.
What's the current condition of the home?
Living in a house with a lake in your backyard can be lots of fun, but like anything else in life, it has its drawbacks. Moisture in the air, bad weather on the lake, and fluctuating water levels will all add up to a lot more maintenance than with a home that's not on the lake… especially if you have a dock that extends into the lake itself.
Most all construction materials can be negatively affected by being close to the water like wood, stone, and even metals. It's important to stay on top of the maintenance to avoid costly repairs down the line. It's much cheaper to maintain as you go than replace every few years.
Like with any property you buy, you should go through it top to bottom, inside and out with a fine-tooth comb. Be sure to hire a quality home inspector that will reveal any issues before making any decisions. Bug infestations and wood rot are more common among lakefront homes than other homes.
Where does the sun set?
It may not seem like a big deal at first, but remember, you're likely to live out the rest of your life in your lake house so be sure you know where the sun rises and sets. What part of the house gets morning sun? Can you see the sunset? How windy does it typically get in the backyard?
When buying a lake house in Orlando, this should be the top consideration.
Get the exact details about the lake
Lake communities in Orlando can vary quite a bit when it comes to the lake itself. For example, the community of Hunter's Creek has some gorgeous lakes throughout the community. However, if you like boating and wakeboarding then Hunter's Creek isn't for you because the lakes are protected and they do not allow gasoline engines on the water.
If you're into water sports like our family is, then you would want to be on a lake where you can use your powerboat like homes on Lake Conway. The last thing you want is to find out the lake where your house is located isn't what you expected.
Spend some time and find out as much information as you can about the lake community you've chosen. These are some great questions to ask your Orlando Realtor when you're considering a lakefront home:
What kind of bottom is it? Sandy? Rocky? Muddy?
Is it a private lake or is there a public boat ramp? [lakes with public boat ramps are a lot busier]
How busy is the lake normally?
Is there a sand bar where you can drop the anchor and swim?
Is there a lot of alligators? Does the HOA come and fish out the big ones? This is can be a big issue on some lakes, especially if you have little kids.
What kind of recreational activities are available? Boating, skiing, kayaking, fishing, jet skiing?
What's the bug situation? Are there mosquitoes or no-see-ums? Nothing brings the backyard BBQ to an end like being viciously attacked by tiny flying insects.
Besides alligators, what other kind of wildlife is there on the lake? Otters? Ducks? Geese? Are they a nuisance?
How's the shoreline? Is it sandy? Muddy? Can you access it from your home? Does it have a private dock?
Does the county stock the lake with fish?
Does the lake flood in rainy season? How far up on the yard does the water come?
Are you required to have flood insurance?
Can you keep a boat in the back or is there a community boat ramp? Are you allowed to have a dock in the back?
These questions may not all pertain to your lake but they are all things that need to be considered.
Is there a separate association for the lake?
Some Orlando communities have more than one association. It's a good idea to find out how your lake community works… who maintains the lake? Is there a separate cost? Do some research and find out the nature of any organizations you'll need to join. Ask other residents in the community if they're happy with the association and how they handle issues that may arise.
It's a good idea to ask your Orlando real estate agent about any questions you may have about the association in charge of your lake.
Be sure you can do the things you were planning on doing when thinking about a lake house. The last thing you want is to not be allowed to do something you had on your mind when dreaming of a living on the lake.
Generally speaking, having a lake association is a good thing for the community. Associations are made to protect the lake and resolve any issues that would threaten the overall health of the lake. Usually, there is a board of directors that meets regularly to discuss any problems with the lake and how to handle them.
Residents are usually invited to attend these meetings so they can ask any questions or voice any concerns they have about the lake.
Will the lake house be used as a vacation home or your primary residence?
If you're buying the lake house to be used as a vacation home, you'll have different needs than someone buying it as their primary residence. You may not be as concerned about where the sun sets or what kind of bottom it is because you may only be there for a few weeks or days at a time.
However, if you're looking to move into the lake house as your primary residence, then you should pay very close attention to the things mentioned in this article.
How far are you from civilization?
If the lake house you want to buy is in the Orlando area, then this won't be a concern. But if you're buying in a more secluded area, then you'll want to find out how far you are from modern conveniences like supermarkets, restaurants, hospitals, police stations. Not everyone enjoys feeling isolated on a year-round basis.
Cell service may also be important to you, you'll want to check how many bars you have on your phone in and around the home you are wanting to purchase.
How far and how easy is it to get on major roads from the lake? Will you have a potential problem accessing your home if the road floods?
Size matters
Based on what your usage will be for the home, size should be a major factor. If you're someone who gets a lot of visitors or likes to throw big backyard BBQs, then you'll want to have a guest bedroom or maybe even a separate guest house in the back.
However, if you're more of a private person and it's just you and the family, a smaller home might be better for you.
Are you allowed to expand?
Consider if you want to expand your square footage or make some other major changes to the home one day… can you? This is another great question for your real estate agent.
Many times, local zoning laws can be more strict on a lake… it's important to find out what you're allowed and not allowed to do before buying.
Is the lake house on a septic system or serviced by public sewer system?
Another important consideration when buying a lake house is to find out if the home is on a public sewer system or if it has its independent septic system… which can be very costly to replace because they are in such proximity to a lake.
If the lake home you're interested in has a septic system, be sure to get it professionally inspected. If it needs repairs or replacing, you may be able to negotiate the price.
What about zoning restrictions?
When you live in a lake community, there may be some additional restrictions you should be aware of. Lakes are wetlands or conservation areas which means they are protected by Orange county environment protection. More than likely, the lake association will need to approve any major work or changes you plan on doing to the property.

Some lake communities in Orlando have rules that apply to an area directly bordering the entire lake. It's usually a space from 15 feet to 25 feet depending on the particular lake and may be referred to as an easement or common area. It restricts you from planting clearing out or building anything within this area.
If you live on a private lake, then you will probably own the property down to the waterline.
When you are house-hunting with your Realtor, you'll see some listings that will be advertised as having "lake access". This doesn't always mean that you are allowed to keep a boat in your backyard… It could mean that there is a public boat ramp. Again, this is where your Orlando Realtor earns their commission.
Lake houses located in some older communities may have outdated zoning laws that may allow for some unusual things. It will be worth your time to find out about any such laws.
Lake homes can have outdated zoning rules that allow for unusual things. Highly recommend researching before purchasing. You will have no option but to follow these guidelines after you buy.
Make sure your view is sufficient

Looking out over the water every morning is one of the best parts of living on the lake. Sadly, not every home on the lake offered has this kind of wonderful view. This might not be your main priority; it will all depend on your needs and budget.
You should also find out if they will continue to develop the lake or if they have completed the building. If the community is still in the developmental stages, then the view you have today may not be the view you will have when they finish building.
As an Orlando Realtor, I have worked with several homeowners that have had their lakefront or conservation view change almost overnight with no warning. Needless to say, they were not happy about it.
Find out about lake access.
Although lakefront homes are on the lake "technically", some lake houses can be up on a hill or maybe the shoreline is covered with bushes or trees making it difficult to get to the water.
This is important, especially If you plan on living out the rest of your life at the lake house. You don't want to be climbing up and down hills every day to access the water.
How much privacy do you want?
The lakefront homes in Orlando Fl are fantastic for boating, fishing, wakeboarding, kayaking, and unfortunately… jets skis. Deciding how much privacy you want is important, especially in the long term. The closer your home is to the water, the less privacy you will have. If you're on a lake with a public boat ramp, then you will have even less privacy.
Some lots will have more distance between the home and the shoreline. Typically, homes with a clear line of sight to the water are more expensive. But sitting on your back porch in your underwear watching the sunrise on the lake… priceless.
Work with an experienced Orlando Realtor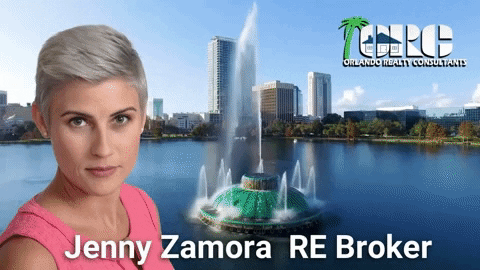 It doesn't matter whether you're buying or selling a house on the lake, you should hire a Realtor that has experience with lake houses. Lake houses come with their own set of complexities and your agent must understand them. Research local agents in the area you plan on buying in. Find out how active they are and check their online reviews to see what their clients are saying about them.
Ideally, you want an agent that understands what your needs are and how much your budget is. Lakefront homes present more challenges than other homes especially when it comes to finding a good deal. The demand for lake homes is always higher and so are the prices. With a skilled Orlando real estate agent on your side, the search is easier and your chances of finding the right home at the right price are much better.
When you are buying a lake house, you should understand there's a certain premium over a home that's not on the lake. The dollar amount of that premium is something that a qualified Realtor can help you with. Several factors can come into play such as the zip code, the lake, lot size, amenities, water quality, and public access to boat ramps.
If you're selling a lakefront home, you should know that marketing it to the right people is crucial. Choose a Realtor with a good reputation and even better marketing skills. Top-notch photography, drone videos showing the lake & home, and detailed descriptions are a vital part of getting top dollar for your lakefront home.
Finding lake houses for sale
In addition to finding a Top Orlando Realtor who has tons of experience with lakefront homes, you can also do some searching of your own. Just Google "lake homes for sale" in whatever area you're looking for and you should get some results.
Your Realtor should also set you up with some email alerts so you'll know exactly when a lakefront property meeting your needs hits the market.
FAQS about lake homes
Are lake houses a good financial investment? Yes, generally speaking. Houses located on lakes tend to have a higher appreciation rate than homes not on the water. Of course, it depends on how much you paid for it.
Are lake houses more expensive? Yes, lake houses will always be more expensive than an identical home that's not on the lake. Just check the homes across the street from a lakefront home, you may be shocked at the price difference.
Are lake houses with a dock better? Definitely…With a dock, you can have your boat or kayak ready at a moment's notice. Your lake house will be worth more if you have a dock.
Is it worth the extra money to live on a lake? This answer depends on you…If you enjoy water sports and relaxing lake views, then I would say yes. However, if you don't care either way, then you can get a lot more bang for your buck by buying a home that is a non-lake front.
My final thoughts on buying a lake house
For most people, myself included, being close to the water gives you a relaxing feeling that is unmatched by anything else. Whether you're enjoying a sunset or learning to wake surf, doing it from your own lake house is priceless. If you feel the same way and can afford to buy one, I say go for it!