Are you looking for an Orlando home in a neighborhood where there's little or no inventory? And if you do find one that meets your criteria are you ready to be faced with a bidding war? That's typically what happens in a seller's market, especially in the most sought-after neighborhoods in Orlando.
Here are a few tips that will help you to maximize your chances of finding yours and getting it under contract.
Make your search a top priority. If you really want it, you have to go for it. Have your Orlando Realtor set up email alerts for you. This way every time a home that meets your criteria hits the market, you'll be one of the first to know. You should be ready to go see it immediately, don't wait for the weekend to come around because it will probably be under contract by then. Also, be ready to make a quick decision, not doing so could cost you.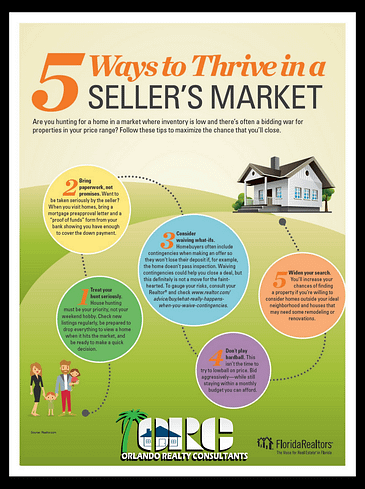 Get pre-approved by a lender and bring your pre-approval letter with you whenever you go see a house. A seller will take you more seriously if you show them that you mean business and you're not there to waste their time. This will give you a huge advantage over a buyer who hasn't taken this step yet.
Consider waiving the contingencies. The typical home buyer will put contingencies in the contract in order make sure they don't lose their deposit as well as making sure their financing gets approved. For example, if the home doesn't pass inspections, they can back out. Waiving the contingencies is always attractive to buyers but it's not recommended for every buyer. Consult with your Orlando Realtor before considering this as an option.
In a seller's market, sellers have the advantage. Don't send in a low ball offer on a home that you know is worth the asking price, because you'll likely end up losing it to buyer willing to pay full asking price. Figure out how much you're willing to go up to within your budget and bid aggressively.
Tweak your criteria when searching. Consider going further outside your search area and look at homes that may need some remodeling or updating. By doing this you'll not only have more options, but you could even end up getting a better deal, especially if the home needs some repairs.
If you're looking for a house to call home in Orlando, FL, or even an investment property, call or text us at 407-902-7750 for a free consultation. In the meantime feel free to use our Orlando Home Search Tool.